bridges
well, yes, queenstown the mining municipality appears like a proper end to the tasmanian galleries - yet one issue is even more special - all the unique bridges one can visit and cherish! so, here are some:
this one, the richmond bridge, is tasmania's oldest bridge, built by convicts under very harsh conditions, and finished 1825.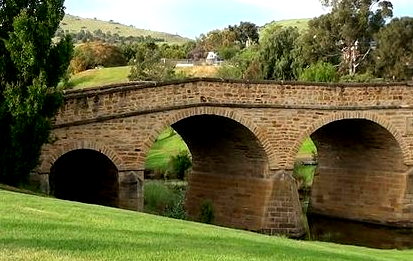 the rossbridge, also built by convicts, was completed in 1836.

the red bridge, built by convicts as well, in 1837.

the tunbridge over the blackman river, built by convicts and finished in 1848, is a wooden-decked bridge. it's the oldest surviving of this type in australia.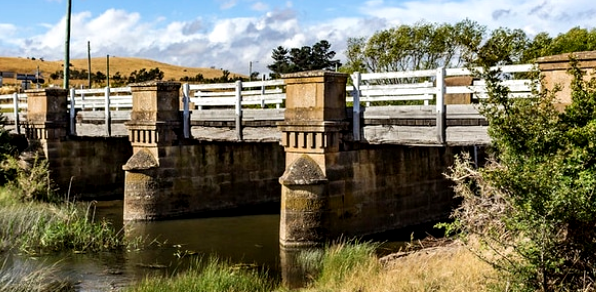 this steel bridge, located near launceton, crossing the tamar river, was erected in two phases, 1863 and 1903.

the bridgewater lifting bridge spans the derwent river. the first work began in 1829, also heavily using convicts. the first bridge was completed in 1848, but didn't last. after further failures, the bridge was completely re-designed in 1939 and completed in 1946. lifting the central bridge section means that large ships can pass this bridge.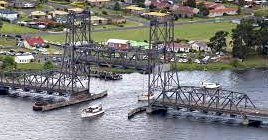 this suspension bridge near launceston, named alexandra bridge, was opened in 1904. in 1929 it was destroyed by a flood, and then rebuilt in 1934 and again in 2003.

the most-known, and most important one, is the tasman bridge in hobart. it is 1400 m long. built 1960-1965. in 1975 a disaster happened: a freightship hit 2 pylons, and the middle section of the bridge fell down into the river. quite a few people lost their life.
the reconstruction of this crucial bridge began immediately, and in 1977 the improved version could be opened - to the relieve of whole tasmania!


" " may it last " "