(o)::(o)::(o)::(o)::(o)::(o)::(o)::(o)::(o)
(o)::(o)::(o)::(o)::(o)::(o)::(o)
(o)::(o)::(o)::(o)::(o)
Bernd Rohrmann
Essay SEYMOUR trip
<0><0><0><0><0><0><0>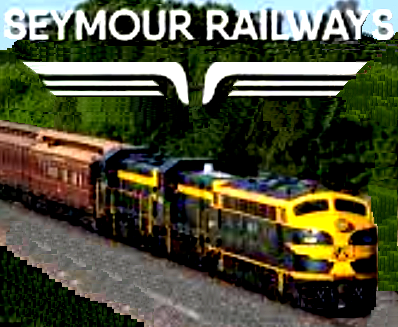 <0><0><0><0><0><0><0>
Status 05-01-23
(o)::(o)::(o)::(o)::(o)
(o)::(o)::(o)::(o)::(o)::(o)::(o)
(o)::(o)::(o)::(o)::(o)::(o)::(o)::(o)::(o)
<:> Intro
This little trip had just a simple purpose, to avoid the end-of-the-year stress in Melbourne!

Timing: 31-12-22 to 02-01-23, i.e., 3 days.
<:> Location
The little city Seymour is not well-known. It is located about 100 km north of Melbourne, at a main railway line, and its population is 6600. It also houses large military facilities. The most common picture from it shows the well-designed railway station.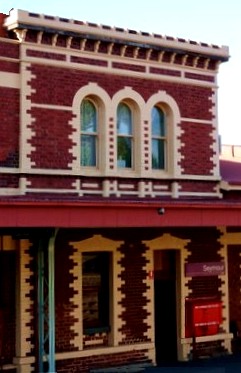 <:> Weather
Was inconvenient: Two days very hot, up to 36 celsius, then a rain day.
<:> Accommodation
Auto Lodge Motor Inn, 20 Emily St - boring yet functional.
<:> Transport
Trains
Melbourne SouthernCross - Seymour: 31-12-22,10:36-11:59
Seymour - Melbourne SouthernCross: 02-01-23,15:06-16:33
Local
Taxis
<:> History of Seymour
First farmers settled in the area in 1839. In1841 the government decided to make it a town, called Seymour. Its first post office started in 1844.
In 1872 the Melbourne-Sydney railway reached Seymour, which then became an essential rail hub for the Goulburn valley.
From 1916 onwards, the Australian Army established training facilities nearby.
Finally, the area of Seymour became soon and still is a major wine region, and Seymour hosts the annual "Victorian Wine Show".
<:> Sightseeing: City center
Seymour's Railway Station was the first main railway station buily outside of Melbourne and is now a culturally protected facility.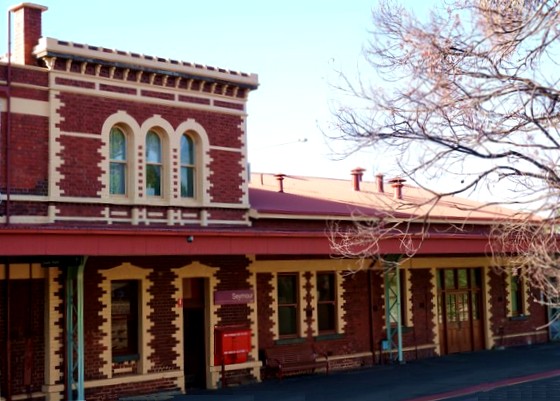 <:> Sightseeing: Old Courthouse
This historic building is now: Info Center and Art Gallery.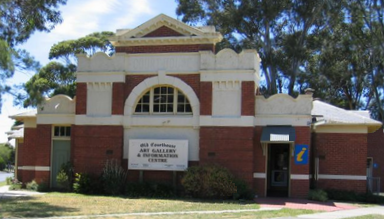 <:> Sightseeing: River bridges
The old Goulburn river bridge did not fully survive, but the original big wooden posts still stand. It is a protected facility as well - and impressed me.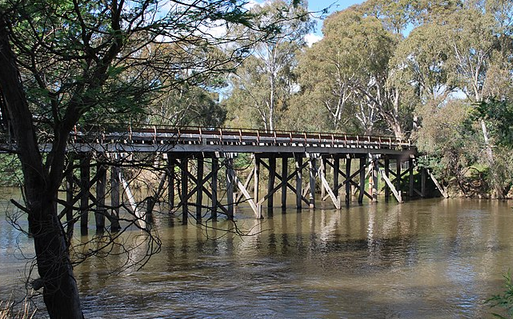 <:> Sightseeing: Pioneer Park
In this area I could see a 'cute' historic military tank, and dito a helicopter.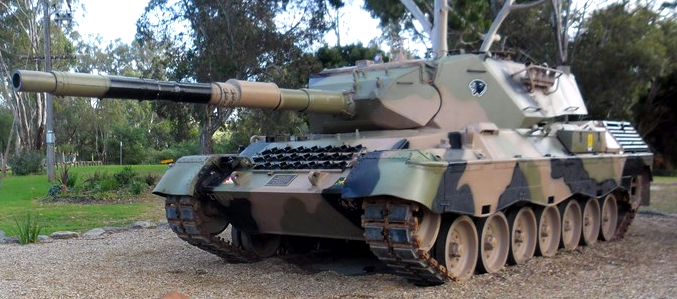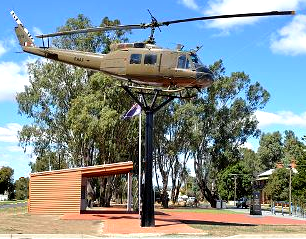 <:> Sightseeing: Tahbilk
There is a huge winery - the Tahbilk Winery was established in 1860 and is Victoria's oldest winery. I found their vines very expensive though - and didn't buy one.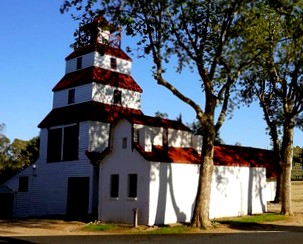 <:> Sightseeing: Seamour Railway Heritage Centre <SRHC>
This is a very large facility for storing and repairing historic locomotives, steam or diesel, and historic carriages, mostly of the "V-Lines".
It is not a public museum though. However, I was fortunate that a professional guide of SRHC gave me a full two-hours tour.
Here are a few of the 'big pieces' to see there: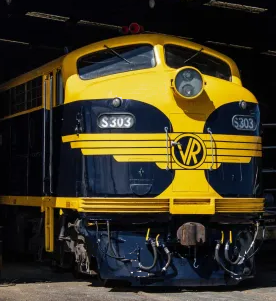 This is the mighty 'diesel' locomotive S303. Built 1957. Fully operational.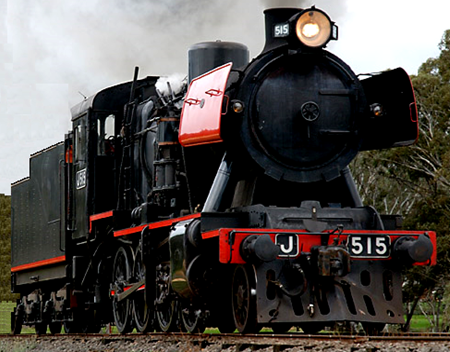 This outstanding big steam locomotive was built in 1954. Currently in major overhaul.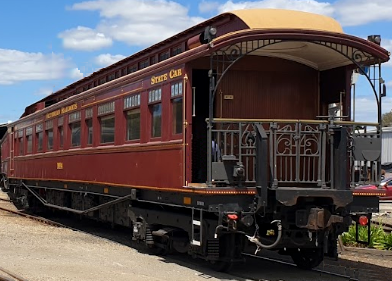 This "E type" carriage was built from 1906 onwards, in various versions, and stayed in use for about 50 years.
And SRHC claims that one of their historic waggons was used by Queen Elisabeth II when she visited Australia!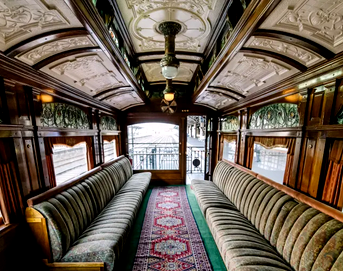 Here is the most luxurious waggon I saw during my visit. I only just dared to sit down there.
That's it ......
To sum up: Seymour is not overly exciting, but one feature of it is unique - namely the Seymour Railway Heritage Centre!
P.S.1:
The train type which actually brought me to Seymour is this one: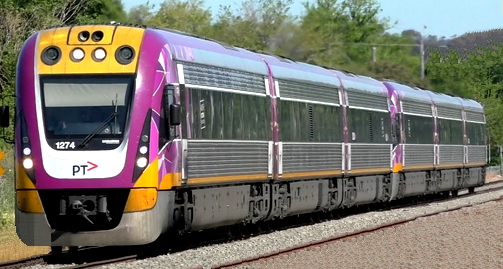 P.S.2:
Yet the train I dreamed of to be my transport is rather this one: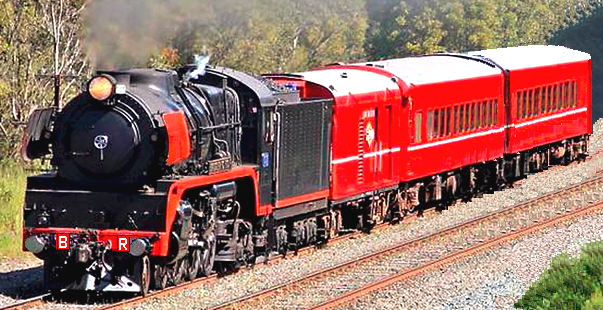 And in my phantasy I even (re-)named this terrific locomotive.......

(o)::(o)::(o)::(o)::(o)::(o)::(o)::(o)::(o)
(o)::(o)::(o)::(o)::(o)::(o)::(o)
(o)::(o)::(o)::(o)::(o)